Die Wertschöpfung im EU-D-S wird aufgeteilt in zirka 1000 Kategorien, die weltweit in allen Sprachen zum Standard werden sollen. Je Sprache wird ein eigener Einstieg über die finder-Technologie in das System vorgenommen. Alle Bereiche werden einer Kategorie zugeordnet. Es gibt weltweit zirka 2500 aktive Schriftsprachen in welchen Genossenschaften für das EU-D-S gegründet werden. Über eine im Social Media Pilot "getmysense" 2014 erprobte Funktion könnten Gleichgesinnte aus verschiedenen Sprachen in einer Kategorie zusammenfinden. Der semantische Grundstock, die sogenannten "finder", kann von den Nutzern in den einzelnen Sprachen selbst erstellt werden. Zum Vergleich, Google gibt es gemäß Wikipedia in 173 Sprachen. Nachweislich 40.000 Stunden wurden von der GraTeach GmbH für die Bottom-up Definition der Kategorien, die Entwicklung verschiedener Anwendungen und Tests der finder-Suchtechnologie aufgewendet. Von 2001 bis 2011 wurde die richtige Zuordnung von zirka einer Million Suchangaben in die Stadtsuchmaschine citythek.de überprüft und der finder-Algorithmus so optimiert, dass er weitgehend automatisiert werden kann. Bis 2014 wurde daraus das Social Media Portal getmysense programmiert und als funktionsfähiger Pilote fertiggestellt. Siehe auch Technische Verfahren für eine digitale Infrastruktur, Trusted Web 4.0 – Bauplan für die digitale Gesellschaft, Wahlfreiheit zwischen Suchalgorithmen ist Voraussetzung für den Demokratieerhalt, Getmysense – Ein ganzheitliches Social Media Netzwerk, getmysense Video, Zukunft des Sozialsystems .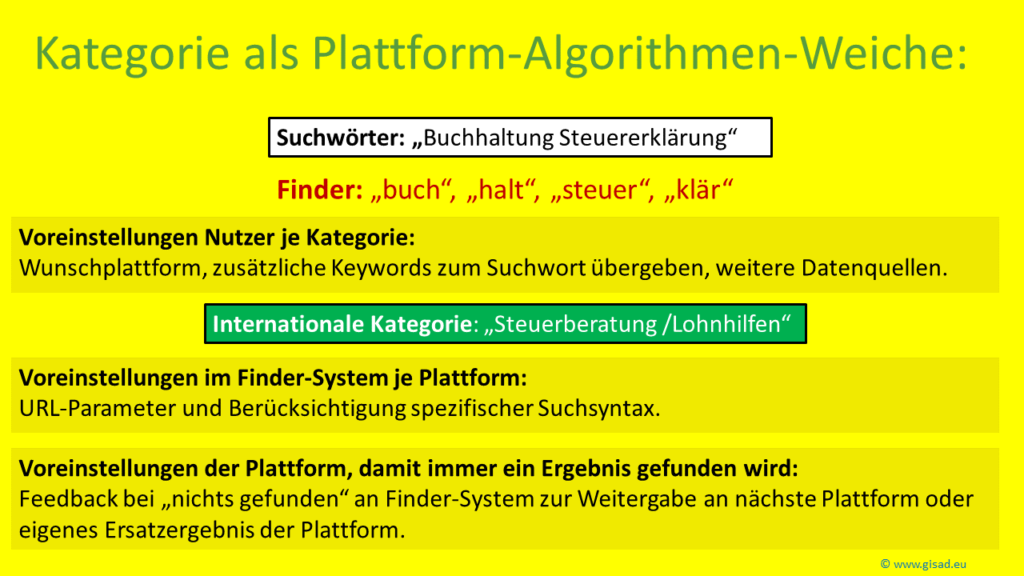 Der /die Head of Department (m/w/d) übernimmt die Leitung des Bereichs "Categorisation / Semantic". Als Coach steht Olaf Berberich mit über 30 Jahren als Unternehmer und Technologieentwickler in der Funktion als Head of "Think Tank / Overall Policy" zur Seite.

Persönliche Fähigkeiten:
Startup Mentalität mit dem Zutrauen, die vorhandenen Pilotprojekte basierend auf SQL-Abfragen in ein auf dezentralen Servern verteiltes, skalierbares Konzept umzusetzen;
Schnelles Einarbeiten in verschiedene Softwareumgebungen / Programmiersprachen;
Sehr gute Fähigkeiten, verständliche technische Dokumentationen und Schnittstellenbeschreibungen in englischer Sprache zu erstellen;
Qualifikationen:
Universitätsabschluss in Informatik oder Mathematik (EQF Level 6, Bachelor Abschluss oder Vergleichbares);
Erfahrungen und Sprachen:
Gute Erfahrungen mit der Integration von Suchmaschinenabfragen;
Die Muttersprache ist abhängig von dem Land, in dem das Department angesiedelt wird. Optimaler Weise hat der Bewerber Kontakte zu einem Land oder zu einer Universität, welche im vertraulichen Rahmen an dem Projekt mitwirken möchte;
Deutsch und Englisch verhandlungssicher;
Sicherer Umgang mit Social Media mit größtmöglicher Sorgfalt bei Verbreitung der eigenen (personenbezogenen) Daten;
Politische Erfahrung im liberalen Umfeld;
Erfahrung beim Aufbau einer Unternehmensgründung ist von Vorteil.
Vergütung:
Zusätzlich zu der an die Qualifikation angepassten allgemeinen Vergütung wird ein interessanter erfolgsabhängiger Anteil gezahlt.
Arbeitsort:
Der Arbeitsort ist abhängig von dem Land, in dem das Department angesiedelt wird. Optimaler Weise hat der Bewerber Kontakte zu einem Land oder zu einer Universität, welche an der Entwicklung mitwirken möchte.